A Brief Itinerary to Explore the Medieval Village of Barolo's Langhe and Its Hills
Are you looking for a place that combines nature, stunning landscapes, and exceptional culinary delights? Well, read on to discover what to see in Monforte d'Alba and its surrounding hills.
Monforte d'Alba is a charming medieval village nestled on a hill in the renowned Langhe of Barolo. Just like La Morra, this area has been cultivating Nebbiolo grapes for centuries, the key ingredient for producing the precious wine that has made this region a reference point in the world of wine.
The Village's History
Its name likely derives from "Monsfort," referring to the walls that once surrounded the castle atop the hill. Despite its name, the village had a relatively peaceful history, with few battles or sieges, except for one notable event.
In 1028, the population, including the feudal lord, embraced the beliefs of a Christian heretical movement, though the exact nature of this movement remains unclear. Some identify it as Catharism, while others have questioned this. In response, the bishops of Asti and Milan decided to put an end to this heresy and besieged Monforte, ultimately capturing it. The population was deported to Milan, where they were tried and required to renounce their beliefs in exchange for their lives. Many refused and were executed. This episode left a lasting mark on Milan's history, and there is still a street named after Monforte today.
From the medieval period, the small village has preserved its narrow cobblestone streets that wind up the hill, offering stunning views of the surrounding vineyards. These qualities earned Monforte a spot in Italy's "Most Beautiful Villages" club in 2018, and it has also been awarded the Touring Club Italiano's Orange Flag in recent years.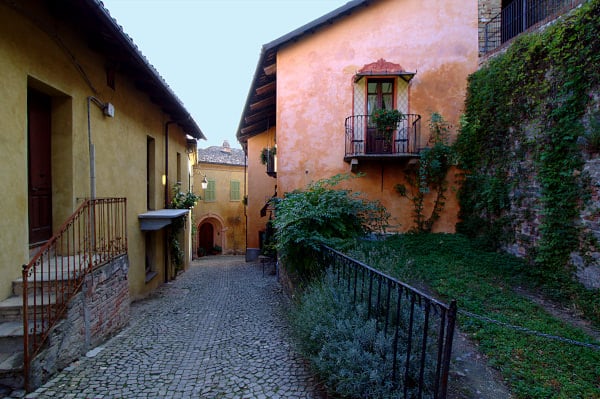 With this brief introduction, let's dive into what to see in Monforte d'Alba.
What to See in Monforte d'Alba: The Historic Center and the Horszowski Auditorium
Our exploration of what to see in Monforte d'Alba begins in the well-preserved medieval town center. As you navigate the narrow, steep, cobbled streets, you'll reach the hill's summit, where the most important buildings are clustered. One of the first things you'll notice is the towering Bell Tower, a true landmark for first-time visitors. It can be seen from virtually any point in the village. Originally built as a watchtower around 1000, it later transformed into the bell tower of the parish church, which was demolished in the 20th century.
At the base of the tower lies one of the village's most intriguing attractions: the Horszowski Auditorium (named after the famous Polish musician who inaugurated it with a concert in '86). This splendid example of a natural auditorium was carved into the hill's slope, following the ancient Greek tradition. Like the theaters of ancient Greece, it boasts near-perfect acoustics and minimal environmental impact. The auditorium hosts a highly acclaimed international jazz festival, as well as theater performances and film screenings.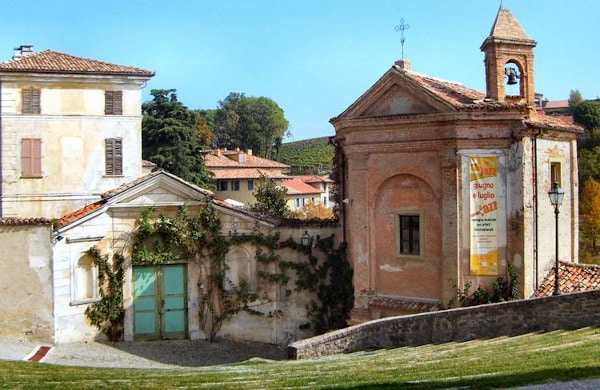 Adjacent to the auditorium is Palazzo Scarampi, constructed in 1706 by the Da Carretto family on the ruins of the castle that gave the village its name. A few meters away stands the Oratory of S. Elisabetta, a small octagonal Baroque church built with funds from the feudal lord Francesco Carlo del Carretto. What sets it apart is that he had an underground passage built, connecting the former castle to this charming church. Lastly, at the highest point of the hill, you'll find the Oratory of S. Agostino and S. Bonifacio, a church established by the Confraternity of the White Disciplinarians. This small, exposed-brick Baroque church occasionally hosts art and photography exhibitions
What to See in Monforte d'Alba: The Church of Madonna della Neve
The lower part of Monforte is more modern and reflects the village's development during the last century. Here, the most noteworthy building is the Church of Madonna della Neve, a beautiful Neo-Gothic structure built in the early 1900s. Its exterior is characterized by a wide, double-flight staircase leading to a facade with three adorned portals. Additionally, you can't miss the 54-meter-high bell tower, adorned with a series of mullioned windows and a dome.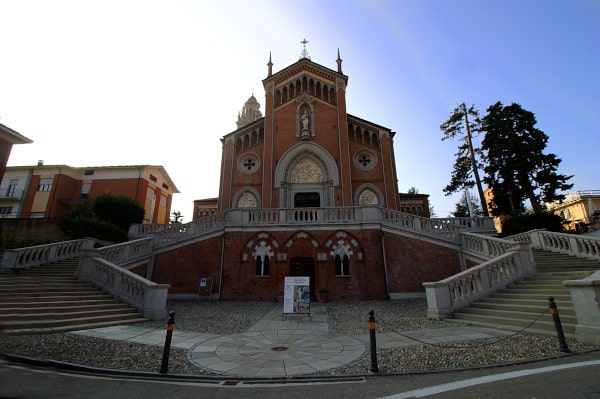 The interior is even more captivating. It is adorned with precious stucco work, wooden statues, and stained glass windows, some of which were even imported from Germany. In the transept arms, you'll find frescoes by Luigi Morgari depicting "The Miracle of the Snow" and "Stories of Mary."
What to See in Monforte d'Alba: Trails Among the Vineyards
One of the must-do activities when visiting Monforte d'Alba is taking a walk through its vineyards. Only by strolling among the Nebbiolo vines can you truly appreciate the immense human effort put into transforming these hills into a UNESCO World Heritage landscape. There are trails of varying lengths where hikers can fully immerse themselves in the tranquility of the countryside and discover places of undeniable charm.
Among these, we recommend the S1 trail, which leads from Monforte to the hamlets of Bussia and Perno. This route allows you to explore some buildings that have characterized the area for centuries. First, you'll encounter the Chapel of the Seven Ways, a small 15th-century place of worship with a remarkable Renaissance fresco depicting the Madonna and Child inside.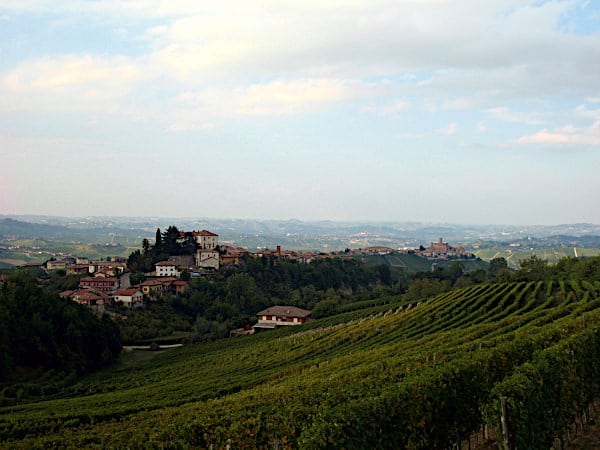 Continuing on, you'll pass through Bussia with its panoramic views of Novello and Castiglione Falletto before reaching Perno. Here, the dominating presence is the Castle of Perno, rebuilt in the 18th century after enduring numerous attacks over the centuries. The palace holds significant importance not only for local history but also for Italian cultural history. In the past century, it was purchased by the Einaudi family and became a residence for the study and artistic activities of several writers, including Primo Levi. It also served as a venue for seminars and meetings among the leading figures of Italian culture during the republican era.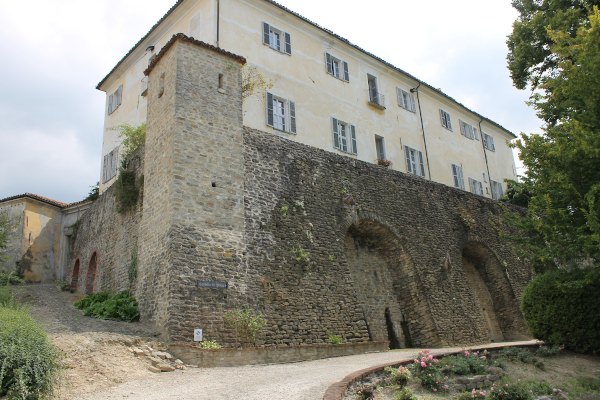 On your way back to Monforte, you'll come across the country chapel of Santo Stefano. Originally built in the 12th century, it has become a key landscape feature in the area over time.
Must-Try Local Dishes in Monforte d'Alba
A visit to Monforte d'Alba wouldn't be complete without trying its local dishes. Like all of Langhe, Monforte's cuisine has its roots in the traditional Langarola farming heritage. There's an abundance of options for trying these dishes, from agriturismos to restaurants and small bistros, offering elaborately prepared appetizers, first courses, second courses, and desserts that are sure to satisfy even the most discerning palate. Some of the key dishes include vitello tonnato, carne cruda all'albese, fritto misto alla piemontese, Bagna Cauda, tajarin, and ravioli al plin. All of these dishes pair exceptionally well with another monarch of this region, White Truffle of Alba.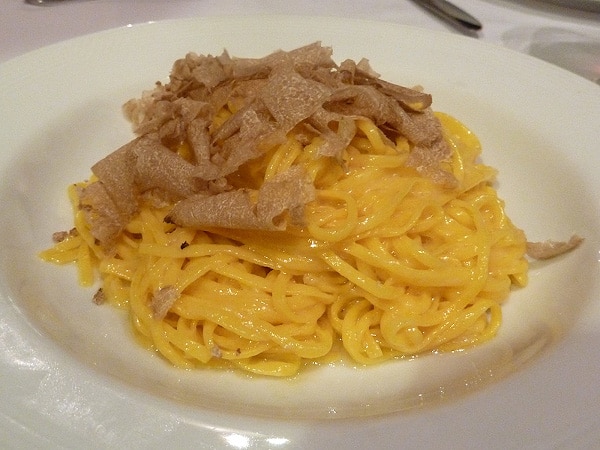 In addition to the mentioned dishes, we'd like to recommend a lesser-known but truly outstanding dish: coniglio alla langarola (rabbit Langarola-style) with peppers. This is a truly delicious dish with delicate yet intense flavors.
To round off your meal, there are excellent desserts that maximize the flavors of Monforte's local produce. Among our favorites are the torta di nocciole piemontesi (Piedmontese hazelnut cake) and paste secche di meliga (cornmeal cookies) with zabajone.
To accompany these dishes, we'd typically suggest a bottle of Barolo, preferably one that's aged. However, we'd also like to introduce you to another local wine worth trying: Alba Doc. This red wine, primarily made with Nebbiolo and Barbera grapes, pairs perfectly with the dishes we've recommended and comes at a lower price point than Barolo.
Now that you know what to eat and see in Monforte d'Alba, all that's left is to plan your visit! Remember to book your lunch reservations in advance, as restaurants are often quite busy. If you're considering staying in the area, click  here to book accommodations at the best prices!
Summary
Article Name
What to see in Monforte d'Alba
Description
Discover what to see in Monforte d'Alba: Nature, landscapes, and culinary delights in one charming destination.
Author